10 Best Breakfast Spots in the UK for a Healthy Breakfast
The estimated reading time is 5 minutes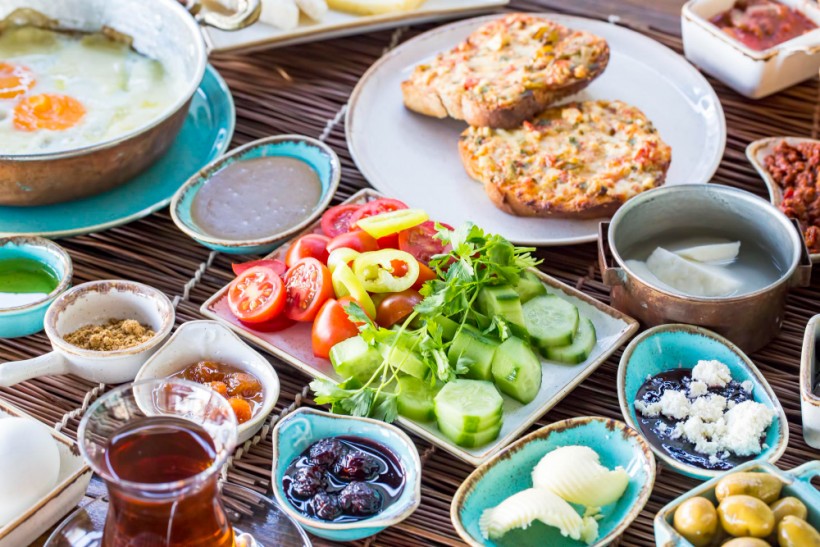 Starting the day off right is key to feeling energized and motivated throughout the day. But where can you go for a healthy breakfast option when dining out? From café favorites to takeaways packed with nutrition, here is our pick of the ten best spots in the UK for a healthy breakfast to fit your morning routine - no matter how hectic it may be! Read on to find out what they are and which fits perfectly into your lifestyle.
Duck and Waffle, London
Duck and Waffle is your go-to destination for an extraordinary breakfast experience in Bishopsgate. This sophisticated rooftop restaurant has something that everyone can enjoy, whether you're looking to indulge or keep things healthy. Their unique take on classic dishes will surprise and delight - the full English with grilled halloumi cheese and a quinoa hash brown being particularly noteworthy! Perfectly crafted using only fresh ingredients, each dish promises flavor beyond compare – so start your day off right at Duck & Waffle!
Azul Monkey, Crosby
When it comes to starting your day off on the right foot, breakfast is undeniably key. And at Azul Monkey in Crosby, they take this morning meal to the next level with their incredible breakfast options. What's especially noteworthy is their emphasis on healthy choices. From fresh fruit and yogurt parfaits to a variety of egg dishes loaded with veggies, you can feel good about nourishing your body while still enjoying a delicious meal. But don't worry; even their more indulgent options (such as the indulgent waffles) are made with high-quality, organic ingredients. So, whether you're a health-conscious diner or simply someone who appreciates a satisfying breakfast, you won't want to miss what Azul Monkey has to offer.
Hawksmoor, London
Hawksmoor in London is not just known for their succulent steaks, but also for their exceptional breakfast menu. With the increasing focus on healthy eating, Hawksmoor has adapted to meet the demands of their health-conscious customers. Using locally sourced ingredients, their breakfast options include mouth-watering smoked salmon, creamy avocado and poached eggs, and wholesome granola with yogurt and berries. For those looking to indulge in a bit of decadence, Hawksmoor also offers contemporary twists on traditional English breakfast staples, such as their bacon chop with grilled tomatoes and fried eggs. Whether you're a carnivore or a vegan, Hawksmoor's breakfast menu has something to satisfy every palate.
The Koffee Pot, Manchester
The Koffee Pot has become a favorite amongst Manchester's breakfast enthusiasts due to its enticing array of flavourful, healthy dishes. From oat bran porridge dotted with seasonal fruit to vegan and veggie-packed plates, this destination offers something for everyone - all prepared using fresh, locally sourced ingredients. Not only can you enjoy British classics like bacon and eggs here, but also an indulgent yet guilt-free experience that will leave your appetite more than satisfied!
Café Q in Cornwall
When it comes to breakfast, Cafe Q in Cornwall is definitely worth checking out. Not only do they serve up some incredibly delicious plates, but they also put a focus on healthy options that won't leave you feeling weighed down. From their satisfying avocado toast to their protein-packed smoothie bowls, Cafe Q has something for everyone – regardless of dietary restrictions or preferences. And the best part? All of their ingredients are locally sourced, meaning you can feel good about supporting both your own health and the community around you. So the next time you're in Cornwall and in need of a bite to eat, make sure to swing by Cafe Q for a breakfast that's both tasty and nourishing.
Partisan in York
Partisan, located in York, is known for delivering an incredible breakfast experience that satisfies not only taste buds but also health enthusiasts. With a smart and informative approach to the menu, this restaurant offers a range of dishes prepared using locally-sourced produce that not only tastes delicious but also fits into a customer's lifestyle choices. Their healthy options include vegan, gluten-free, and dairy-free dishes that are prepared with utmost care, offering unique flavors that are not available anywhere else. So if you're in York and looking for a nutritious breakfast that is loaded with flavor, look no further than Partisan!
Breakfast is an essential part of the day for a healthy start and maintaining energy throughout the day. UK cities and towns boast some truly outstanding eateries - from modern cafes to traditional diners. All ten of these breakfast spots are sure to kickstart your day with great food and atmosphere, allowing you to feel energized for whatever comes next in your day. Whether it's a cozy mix of traditional cuisine with a twist, organic specialties or fast-food options that can be made fresh right before your eyes, there's something for everyone! Take a break from the ordinary and see why everyone wants to start their morning off right by exploring some of these top ten best breakfast spots in the UK!
She is a experienced health nutritionist and dietitian. She is also a writer therefore, she uses her creativity to make exceptional healthy meals that her clients loves.