7 Raw Food Breakfast Ideas That You Can Make In Less Than 5 Minutes
The estimated reading time is 7 minutes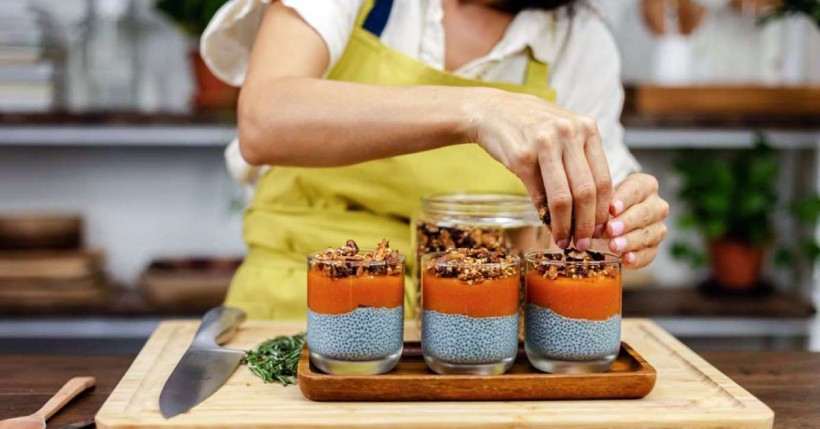 How often have you heard your mom yelling at you for not even looking at your breakfast when you were a teenager? You probably heard it the same number of times as the phrase – breakfast is the most important meal of the day, right? Do you believe in this? 
Let me remind you of one exam day when you forgot to eat your breakfast and passed out in the classroom, or that one day when you got dizzy on the bus because you were in such a hurry that morning, so you forgot to eat. Of course, breakfast is essential, if not the most important meal you take each day. But, of course, what you eat for breakfast is of equal importance, too. 
Many people have decided to switch to a raw diet and share many health benefits. But, what exactly is considered raw food? Whenever you choose to eat something as it is fresh, it is raw food. This includes all the freshness you can get from fruits and veggies, which are the most obvious way to start eating a raw diet. Moreover, food is marked as raw when you cook it at a low temperature, so not above 115 F, to be more precise. When you are cooking food in this way, it will still keep its nutrients and enzymes to keep you healthy. 
By eating raw food, you will have more energy, your digestion will improve, your skin will glow, and you will generally feel better in so many other ways.
You are probably scratching your head by now, thinking about where to start making a breakfast plan and start feeling better immediately, but don't worry. Once you get to know a few recipes and food combinations, you will fall in love with this type of diet and crave more raw food ideas. And I know what your next question is. Is it just going to be smoothies and porridge for breakfast? 
Shakes are great, but there is no need for those if you are not their fan. Before we get to the raw breakfast ideas, it's important to mention these are pretty easy, simple, and don't require much prepping, which is another surprising point to consider. You don't want your first meal to be the most stressful, correct? Here are some marvelous raw breakfast ideas shared to you by experienced people who have already walked in your shoes.
Chia Pudding
No wonder chia pudding has gained so much popularity. It's a very powerful yet simple breakfast pleasure that is consumed all over the world. Add some plant milk in the story, your favorite fruit, and what you'll get is hard to describe on paper. I put chia pudding first on your list because this one might need to be prepared one night in advance, but don't get scared yet; it's an enjoyable process. 
Here is a simple recipe that you can't get wrong because it's a classic one. 
Chia Pudding With Vanilla Flavor And Almond milk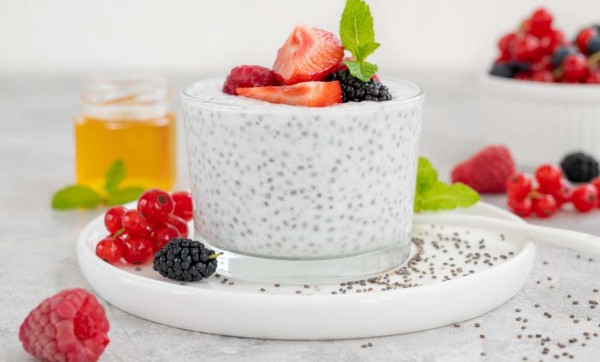 Did I mention that chia seeds are so low in calories? Combined with some vanilla flavor and some almond milk, the pudding is a real treat in the morning. 
Ingredients:
½ chia seeds

3 cup almond milk

1 teaspoon vanilla in powder

1 pinch salt (preferably Himalayan)

1 teaspoon lemon juice

1 tablespoon maple syrup

Put the ingredients in a bowl and mix or whisk well. Wait for 30min to 1 hour, or you can leave it all night long if you prepare it one day before. If you are a fan of berries, you can add your favorite ones, blended, or any dried fruit. The chia pudding can be refrigerated for 3-4 days.
Banana Bread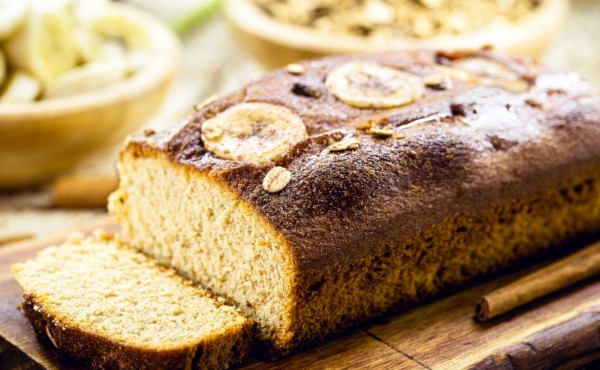 Oldie, but goodie, this banana bread will make you come back for a few more delicious pieces for your snack, not only for your breakfast. Did I mention it's not all smoothies and fruits in a bowl? If you are not a die-hard fan of a good smoothie, try out this raw recipe that never gets old. Bananas will not only give you glowing skin but also an energy boost. 
For this recipe, you'll need 
3 bananas chopped into pieces, 

1 teaspoon of vanilla extract, and 

1 cup walnuts. 
You can also use a food processor to mix the ingredients, but it's unnecessary. Once you've tried this recipe, feel free to add some more ingredients of your taste. (1)
Oatmeal In So Many Ways
Oatmeals can become boring if you use the same ingredients repeatedly, but I'm 100% sure you will fall in love with the next recipe for raw pleasure in the morning. It's super-easy to make and doesn't require much thinking to do in the early hours of the morning. I'm not sure if you are a fan of the apple and cinnamon combo, but at least your house will smell like paradise in the morning. Mix oats, some dates, nutmeg, apples, and sprinkle some cinnamon to try it out. If you feel a little exotic, you can also have some chai tea for the ultimate relaxation breakfast.
Another way to serve your oatmeal in the morning is by adding some plant milk to your raw oats, combined with your favorite fruit. Nuts are optional here. If you are a fan of sweet breakfasts, don't hesitate to add a little maple syrup and enjoy your breakfast.
Granola And Yogurt For A Healthy Start Of The Day
What's easier than opening the bowl of yogurt and adding some granola to it? This is the perfect solution if you can barely open your eyes in the morning but still want a healthy breakfast full of nutrients. And the laziest one, to be completely honest. If you happen to have raw nut yogurt at home sitting there in your fridge, please don't hesitate to mix it up with some granola and some goji berries for a perfect breakfast. 
Fruit Me Up
Fruit yourself up with some fruit bowls if you are not in the mood for doing anything fancy this morning. You will never make a mistake if you eat the fruit in the morning. There is nothing better to consume in the morning than a bowl of your favorite fruit. And the best part is that you can always choose different kinds of fruit. In that way, you get to receive various nutrients and your plate will always be colorful, which is a sign that you are eating healthily!
There are so many options here, but let's mention a few, so you are not out of ideas whatsoever. First, berries are a must for your fruit bowl. Then, you can also choose between the endless varieties, starting from apples, bananas, dates, and even some seeds from a pomegranate, sesame seeds, or even some Maple syrup on top. Enjoy your bowl!
Tacos
Welcome to a whole different concept of breakfast tacos, my friends. I'm sure you haven't heard about raw tacos before, have you? If you would like to try this delicious recipe, you must already be a fan of tacos. Otherwise, it just won't make sense. So, all taco fans here, listen up. You can prepare your taco using romaine lettuce leaves, whereas inside, you can use whichever fruit you prefer. Start simple, using bananas, pineapples, strawberries, or apples, whereas, for the glaze, you can try dry figs or some dark chocolate. Yummy morning!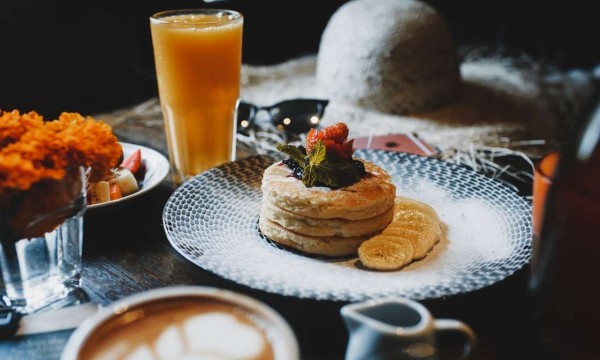 If you are not jumping out of bed in the morning for this, why are you even up so early? No one forbids cookies for breakfast, as long as they are healthy. Needless to say, these banana cookies are extremely simple to make, and you can eat them as a snack throughout the day. No baking is required, of course, because that would mean so many things to prepare in the morning! 
This is what you'll need to do: 
just mix some slices of bananas, 

1 cup of oats, nut butter, 

as well as some maple syrup, and there you go, all set. 
Decorate with flakes or raisins if you want to make things a little more complicated. Then, shape them as beautifully as your morning is, and don't forget to eat all of them!
She is a renowned nutritionist and freelance writer whose topics of interest include healthy living and healthy eating. She is passionate about introducing new and delicious healthy meals while balancing her time between cooking and going to the gym. Her mission is to change the life of as many people as she can and make them the best version of themselves.