Easy Keto Avocado Coconut Milk Ice Cream Recipe
The estimated reading time is 7 minutes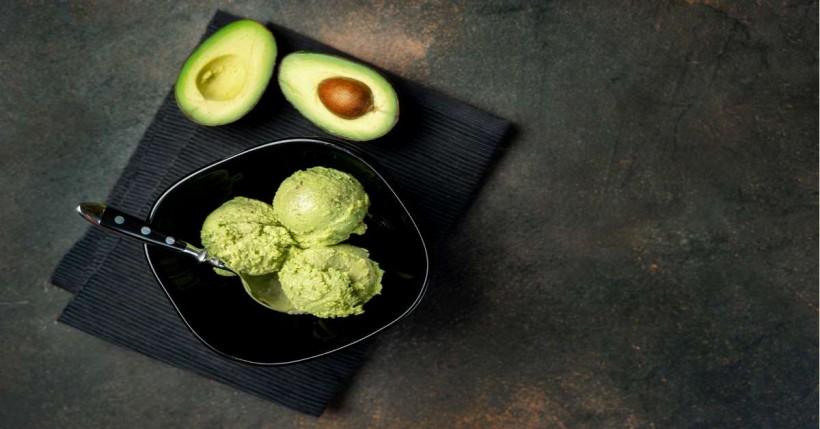 If you like eating avocados and drinking coconut milk, you should try out the tasty keto avocado coconut milk ice cream recipe. Besides being very easy to make, this ice cream is healthy. The avocados give it a lot of vitamins as well as lovely color and smooth texture. And the coconut milk provides a real exotic fruity flavor.
This ice cream is great to eat during hot summer days, but it's the perfect dessert to enjoy when you get a sugar craving in the winter too.
But, before we share the recipe, let's first see what the health benefits of avocado and coconut milk are.
Health Benefits Of Avocados
1. They Are Packed With Nutrients
In addition to containing fiber and healthy fats, avocados contain the following vitamins and minerals:
Vitamin K

Vitamin E

Vitamin C

Vitamins B2, B3, B5, B6

Copper

Folate

Potassium

Magnesium

Manganese
2. They May Help Lower Risk Factors For Heart Disease
The important nutrients found in avocados all help maintain good cardiovascular health.
Avocados have a good amount of magnesium, and magnesium intake has been associated with a decreased risk of high blood pressure. (1)
Studies have also indicated that avocado can help increase HDL (good) cholesterol levels and lower oxidized LDL cholesterol levels. (2,3)
3. They Can Improve Gut Health
Consuming foods rich in fiber improves the digestive system as it helps stimulate the growth of healthy bacteria.
One study which included 163 overweight or obese people found that those participants who ate 140 grams (women) or 175 grams (men) of avocado once a day during a 12-week period had lower concentrations of fecal bile acid and greater diversity of bacteria compared with participants in the control group. (4)
4. They May Help Promote Weight Loss
Being high in healthy fats, fiber, vitamins, and minerals, avocados promote a feeling of fullness.
One study has found that increased intake of fiber has a positive effect on body composition. (5)
Moreover, several studies have associated eating avocados with improved satiety, decreased risk of gaining weight or developing obesity, and reduced abdominal fat. (6,7,8)
5. They Are High In Anti-Inflammatory And Antioxidant Compounds
Avocados are a good source of vitamins E and C, phenolic compounds, and carotenoids, which are all substances that have antioxidant properties.
The α-Carotene, β-Carotene, and lutein present in avocados are carotenoids which are known for their antioxidant properties. This means they can protect against damage caused by oxidative stress which is associated with several conditions, such as cardiovascular disease, kidney disease, and cancer. (9)
6. They Are A Great Food To Eat During Pregnancy
During pregnancy, the body demands nutrients, such as folate, vitamin C, and potassium, and avocados have a good amount of all of these.
Health Benefits Of Coconut Milk
1. It Is Packed With Nutrients
Besides being high in fat, coconut milk is packed with several minerals and vitamins, such as:
Manganese

Copper

Iron

Magnesium

Selenium

Potassium

Folate

Vitamin C
2. It May Have Effects On Heart Health And Cholesterol Levels
One study which included 60 healthy participants found that consuming coconut milk porridge for five days during an 8-week period reduced LDL (bad) cholesterol levels and increased levels of HDL cholesterol. (10)
3. It May Promote Weight Loss And Improve Metabolism
Coconut milk contains medium-chain triglycerides (MCTs), which are saturated fats. Studies have shown that these fats can promote weight loss as well as decrease food and energy intake. (11,12,13)
Moreover, MCTs have been shown to increase total energy expenditure, at least temporarily. (14)
4. It May Have Antimicrobial Properties
The lauric acid and medium-chain triglycerides, which are present in coconut milk, have been shown to have antiviral and antimicrobial properties in several test-tube studies. (15,16,17)
However, these studies did not examine the properties of coconut milk specifically. So, more research is needed to determine whether coconut milk has the same effect.
5. It May Have Antiulcerogenic Properties
One study performed on rats found that coconut milk reduced ulcer size by 54 percent. (18)
How To Make Keto Avocado Coconut Milk Ice Cream
INGREDIENTS
2 ripe avocados (pitted and skinned)

14 ounces (1 can) of coconut milk (refrigerate it overnight)

1 ripe banana

2 tablespoons lemon juice

3 tablespoons maple syrup

4 to 5 mint leaves
INSTRUCTIONS
Put a loaf pan in the refrigerator to chill for half an hour.

Put the two pitted and skinned avocados in a blender and add the rest of the ingredients. Blend until the mixture becomes creamy and smooth.

Pour the mixture into the pan, smooth it down, and put it in the freezer for 4 hours. You can leave it overnight too.

Before serving, let it sit at room temperature for around 15 minutes to soften.
Notes:
You can leave mint out if you don't like it.

If you like nuts, you can finely chop almonds or pistachios and add them to the mixture before you freeze it.

To prevent discoloration, you can put cling wrap over the pan before freezing it.

It is best to eat the ice cream within 2 days.
Prep Time: 10 min
Total Time: 4 hrs. 15min
Category: Dessert
Method: Blender
Cuisine: American
NUTRITION
Calories: 293 kcal
Protein: 3g
Carbohydrates: 19g
Sugar: 9g
Fat: 25g
Saturated fat: 15g
Fiber: 5g
Potassium: 574mg
Sodium: 15mg
Vitamin C: 3mg
Vitamin A: 140IU
Iron: 8mg
Calcium: 32mg
How To Make Vegan Avocado Ice Cream (Without Coconut Milk)
Besides being extremely easy to make, the vegan avocado ice cream is truly delicious, creamy, and refreshing.
To make this recipe, you'll need:
2 ripe avocados

unroasted cashews

unsweetened soy milk

vanilla bean paste

porridge oats

granulated sugar

cocoa butter

salt
INGREDIENTS
150 g unroasted cashews

25 g porridge oats

2 avocados (pitted and skinned)

800 ml unsweetened soy milk

150 g granulated sugar

45 g cocoa butter

1 tbsp vanilla bean paste

¼ tsp salt
INSTRUCTIONS
Freeze the bowl of your ice cream maker.

Soak the cashews in cold water and leave them overnight or soak them in hot water for one hour.

Put the porridge oats in a saucepan, add 400 milliliters of the soy milk and simmer for approximately 10 minutes while often stirring until the oats become soft.

Remove the pits and skins from the 2 avocados.

After draining the cashews, transfer them to a blender. Add the avocados, the rest of the soy milk, and blend to a smooth paste.

Next, pour the paste into a bowl and place it in the refrigerator for at least 4 hours.

Once the paste is cold, whisk it, and pour it into your ice cream maker. Churn until the paste becomes soft.

Put the ice cream in a container and place it in the freezer for 4 hours.

Let the ice cream warm up for about 20 minutes at room temperature, and then serve.
Prep Time: 12 min
Total Time: 8 hrs. 15 min
Category: Dessert
Method: Blender and ice cream maker
Cuisine: Vegan
Keto Avocado Coconut Milk Ice Cream
2 avocados

1 can of coconut milk

1 banana

2 tablespoons lemon juice

3 tablespoons maple syrup

4-5 mint leaves.
Vegan Avocado Ice Cream
150 g unroasted cashews

25 g porridge oats

2 avocados (pitted and skinned)

800 ml unsweetened soy milk

150 g granulated sugar

45 g cocoa butter

1 tbsp vanilla bean paste

¼ tsp salt
Conclusion
The keto avocado coconut milk ice cream recipe is healthy and very easy to make.

Avocados have a variety of health benefits. They're a rich source of nutrients, they may help decrease risk factors for heart disease and promote weight loss, they can improve gut health, they contain anti-inflammatory and antioxidant compounds, and they're a great food to eat during pregnancy.

Coconut milk offers different health benefits as well. It's loaded with nutrients, it may have effects on heart health and cholesterol levels, it may promote weight loss and improve metabolism, and it may also have antimicrobial and antiulcerogenic properties.
He is a fitness trainer and part-time blogger interested in nutrition and in leading a healthy lifestyle. He writes smart and inspirational articles on nutrition supported by scientific research and his own personal experience in the healthcare industry.