4 Italian Tomato Sauces Recipes From Fresh Tomatoes
The estimated reading time is 10 minutes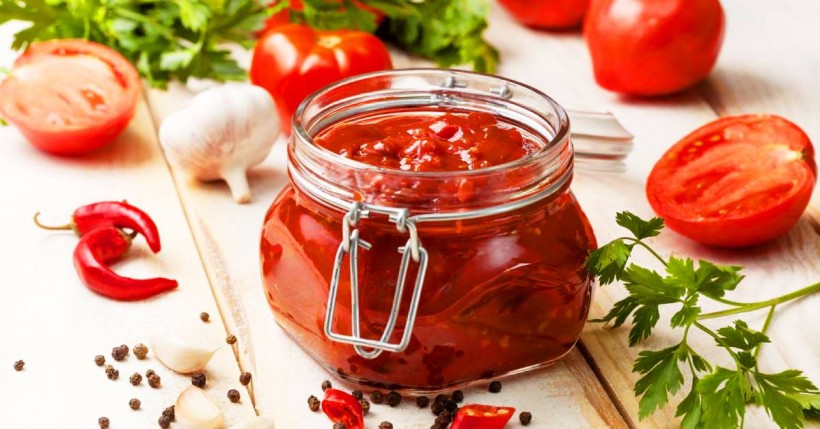 Who has not fallen for that Italian tomato sauce? So rich in flavor, there are no leftovers after the family's gatherings and you are ready to eat it by the spoonful if there is a ciabatta bread nearby…It has that light, bitter tomato taste that refreshes you in an instant and it is one of the most versatile pantry staples to use in the kitchen. You can prepare easy meals with it, like soups, plates of pasta, chilies,  all you need is some spaghetti to toss with it and the dinner is ready!
It is the first thing that any cook or housewife should learn to make and it is so useful and it is essential and classic of Italian cuisine.
And tomatoes? They are the perfect gift from nature, for all food lovers are an excellent source of vitamin C, vitamin A (in form of beta carotene) and many other vitamins and minerals. (1)
Tomatoes are also naturally rich in the important antioxidant lycopene. It can be prepared in various ways,  but it keeps its nutritious qualities and provides the necessary fiber for regular bowel movements. (2)
Tomato Sauces Recipes
You must admit you have an entire shelf of jarred tomato sauce in your pantry in case you need it for the lunch tomorrow. But, when it is tomato season, and you have some extra time you can make tomato sauce from scratch and avoid using canned tomatoes as they are treated with chemicals.
It is always the simplicity that is the best! For the best tomato sauces are economical and simple, are indispensable for the tomato season, and you often save the extra fresh tomato sauce to use it on cold winter days. 
I will tell you a secret, which is to put a piece of a carrot into the sauce when you are preparing it.  This will absorb the acidity of tomatoes and create a somewhat sweeter taste. The carrot is also very nutritious and healthy. (3)
How To Make Homemade Tomato Sauce

Preparation time:  10 minutes           
Cooking time: 2 hours
Total time:  2 hours and 10 minutes
Serves: 6-8 people
Ingredients needed:
5 pounds (3 kg) of fresh tomatoes, peeled and seeded (to peel, cut a small "x" on the top and drop into boiling water for 10 seconds and drop into an ice bath; the skin will easily peel off.)
1 carrot (one half should be grated and added to the sauce, and the other half should be added at the end of cooking and then removed)

¼ cup olive oil (or tallow)

8 cloves of fresh garlic (or more to taste), finely minced

3 medium onions, diced

1 sprig of fresh thyme leaves (or ½ tsp dried)

1 sprig of fresh oregano (or 1 teaspoon dried oregano)

2 bay leaves (remove when done)

2 sprigs of parsley (or 1 tsp dried)

1 tablespoon of honey

1 teaspoon sea salt

⅓ cup fresh basil leaves, finely chopped
Cooking directions:

Pour the olive oil into a large stockpot over medium heat.

Add diced onions, garlic, and grated carrots.

Sauté for 6-8 minutes, or until onions are translucent and tender.

Add tomatoes, chopped basil leaves, oregano, thyme bay leaves, parsley and sea salt.

Simmer on low heat for 2-3 hours or until cooked down and starting to darken. 

Add the carrot piece for the last 30 minutes of boiling to absorb acidity.

Remove sprigs of herbs and pieces of carrot.
Optional: Use an immersion blender to puree the sauce until smooth (for a thicker sauce, skip this step).
Use the tomato sauce fresh, or store it in the fridge for up to 1 week, or you may keep it according to your canner's instructions for preserving tomato products
Other Simple Tomato Sause Recipes
I offer you a few other tomato sauces recipes that are easy to make and are handy when you need to prepare quick and tasty meals and I am sure you would love them!
Authentic Roma Tomato Recipe
Some tomato sauce recipes are so easy that do not even require peeling or blenching. So, I offer you the roma tomato sauce recipe, that is authentic, creamy, and so easy to prepare!
All you need is fresh tomatoes, and you do not need to spend so many hours peeling and blenching the tomatoes!
Of course, you can use roma tomatoes, but all kinds of tomatoes will work for this recipe!
How To make Roma Tomato Sauce?
To make this creamy and easy recipe, you need the following ingredients:
Ingredients:
5 pounds of tomatoes cut into 1-2 inch pieces

1/2 teaspoon salt

1/2 teaspoon pepper

1 clove garlic minced

1/4 cup olive oil
Preparation  time: 5 minutes Cooking time: 20 minutes Total time 25 minutes
Before you start, wash and cut the tomatoes into 1-2 pieces. Afterward, put them in a large pot. Season it with salt and pepper.

Bring them to boil and see how they start to divide and break into a nice creamy structure

The peels of the tomatoes now start to peel off shortly after as they are cooked on high heat

Now is the time to put the minced garlic

Pour the olive oil as it is a must for all the tomato sauces as it makes the texture even silkier, and it is very nutritious and it is a great source of antioxidants (4) and monounsaturated fatty acids that are great for your heart health. (5)

Mix them all with the immersion blender. You can also use an ordinary blender or food processor. Cook it with occasional stirring until you get the desired thickness.
You can serve it immediately, store it in the fridge for your next meal or freeze it and use it after a couple of months.
Note: You will make approximately 8 cups of sauce from this recipe. But, you can always double or triple the amount.
Tomato Sauce Recipe (from Fresh Tomatoes)
 I offer you another easy and simple Italian recipe and it is very simple the perfect season to prepare it is the tomato season when the tomatoes are ripe, really tasty, rich in flavor and you choose from different types of tomatoes like vine tomatoes, San Marzano, even the small tomatoes like cherry tomatoes.
So, the first thing you should make is the passata.  Italian passata is pureed tomatoes and it is 100 % tomatoes, with no additives, seasonings, flavorings, salt, or water. In short, it just contains tomato pulps. It is basic tomato sauce and it is very smooth and it is brilliant for preparing quick and easy pasta meals or pouring it on your pizza.
When the tomato puree is ready, you should put the chopped vegetables, garlic, and onions and continue with cooking to get the needed thickness! In the end, you should season it with spices and herbs.
How To Make Tomato Sauce Recipe (From Fresh Tomatoes)?
Ingredients:
1 kg of very ripe red tomatoes

2 tbsp of extra virgin olive oil

1 onion

1 garlic clove

5 fresh basil leaves

1 tsp. of sugar

a pinch of salt

oregano
Prep Time:10 Min    Cook Time: 40 min    Servings: 4
Instructions:
Wash the tomatoes thoroughly under running water and cut them in half.

Remove all the seeds, and the internal parts of the tomatoes with a knife. Cook it over low heat in a covered pot.

Now, you can use a food mill to remove the skin and make the puree.

The next step is making the soffrito ( the Italian word for fried slowly as it means that the vegetables are finely chopped and gently cooked in olive oil). So, you should finely chop the onion and the garlic and simmer them for about 2 to 3 minutes.

Mix it with the passata (tomato puree) and season it with salt to taste and 1 tsp of sugar. The sugar is needed to lower the tomatoes 'acidity. NOTE: As the glass lid retains all the moisture it is advisable to use it when making this sauce. At the same time, you can follow the cooking easily).

Cook it on medium heat for about and stir it occasionally.

When the sauce is ready, you can put the basil leaves and a little bit of oregano if you want.

Now, you can use it immediately, put it in the fridge for 2 or up to 3 days or freeze it for a month.
What Is A Pomodoro Sauce?
Pomodoro sauce (the Italian word for tomato)  is an easy Italian sauce that points out the tomato's flavor.  The tomato is not mixed with many aromatics and spices and it is simmered at low temperatures to retain its brightness and let the tomatoes shine. It is just made out of 3 ingredients, you probably already have in your kitchen and all you need is:
3 cloves garlic

1 can whole peeled tomatoes

1 small sprig of fresh basil (optional)
Instructions:
Peel and smash the garlic and sauté it until golden for 1 to 2 minutes in olive oil

Pour in the whole can of peeled tomatoes.

Season it with 1 tsp of salt and 1/4 teaspoon black pepper and stir it until combined.

Simmer it on low heat until it is slightly thickened, and break the tomatoes as they soften for about 20 minutes

When it is thickened, please remove it from the heat and blend it in a blender until completely smooth. Season it with salt and black pepper as needed.
Nutrition Facts
Per Serving:
152 calories.

Protein 4.2g.

Carbohydrates 20.8g.

Fat 7.4g.

Sodium 303.6mg.
Why Is Tomato Sauce Sometimes Orange?
Sometimes, when you prepare a tomato sauce, it might turn orange and you think that it might go bad and you are not satisfied with the result. Three is nothing to worry about, and you should not panic. 
It might be the result of the blending process, as it incorporates some air and the red pigment looks orange.

The tomatoes are not fully ripened

It gets the orange color from lycopene, which is betta carotene and has a yellow base

You haven't removed the tomatoes' skin before blending
How Can You Prevent This?
You should remove the tomato's skin before blending

Let your tomato sauce simmer since cooking slow gives the best results and your sauce doesn't taste too raw or sour

Pour a glass of wine as it will give a more deep red color to it and another nice tone to it
Tips On Cooking Tomato Sauce
Always taste the sauce before tossing it on your pasta or pizza, it might be enough salty or it might need extra seasoning.

Cooking time may vary depending on the amount of the sauce you are making and the shape of the pot, and using a deep narrow pot means a longer preparation period

It would be best if you always were careful about the density as it shouldn't be too watery or too tick.

You can always add different herbs and spices such as chilies, rosemary, or fennel seeds.
I can suggest these 4 dishes, which I always garnish with these fantastic tomato-based sauces:
Zucchini lasagna
Meatza
Chicken cacciatore
Chicken parmesan
Enjoy it and don't forget to SHARE THE PLEASURE with your family!
He is a fitness trainer and part-time blogger interested in nutrition and in leading a healthy lifestyle. He writes smart and inspirational articles on nutrition supported by scientific research and his own personal experience in the healthcare industry.